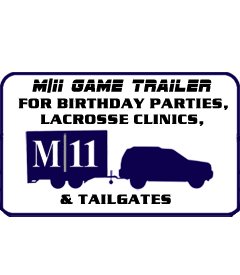 Daily Health Screening
All children and staff shall be screened daily at drop off/arrival to include:
Temperature check (must be lower than 100°):

Temperature will be taken by Miller Lacrosse Coach using a touchless thermometer while the child is still in the car. Coach temperatures will taken before start.
Please plan for delays during drop off time due to health screenings.

Oximeter:

Child / coach will undergo a simple oxygen level test using a medical grade oximeter. This combination of body temperature and blood oxygen level test represents the most reliable COVID screening possible during check-in.

Visual Inspection:

Child/coach shall have no observable signs of illness, including flushed cheeks, bloodshot eyes, rash, rapid breathing or difficulty breathing (not stemming from physical activity), cough, fatigue, or extreme fussiness.

Verbal Health Screening:

M11 coach will ask several questions to parents/staff upon arrival. Child/staff shall have no reportable cough, chills, sore throat, muscle or neck pain, rapid breathing or shortness of breath, fatigue, vomiting, loose stool, or loss of taste/smell/appetite not resulting from the diagnosis of another condition. Child/staff has not had contact with a person known to be infected, or exposed to someone infected with COVID-19 within the past 14 days.
Mission
M|11 Miller Lacrosse is an organization focused on girls and boys youth lacrosse (grades 1-8). . The Miller Lacrosse model is geared towards ensuring that all players experience maximum growth through our quality coaching staff and practice formats. Miller Lacrosse, through years of experience with young athletes, has designed age-appropriate developmental programs that produce effective results while delivering an exciting and enjoyable player experience.
The strength of M|11's reputation is built upon hard work, discipline, leadership, teamwork and sportsmanship.
M|11 is geared to the player and will work with the player to make sure the athlete has

FUN

and will develop both on and off the field.
BOYS M|11 SUMMER & FALL TEAMS
Practices & Tournaments all Local in our Area.
GIRLS M|11 SUMMER & FALL TEAMS
All Tournaments Are One-day Local Tournaments
Summer Camps & Clinics
Have a FUN Learning Experience with your friends
#MILLERLACROSSE #M11

SHARE YOUR M|11 & MILLER LACROSSE IMAGES ON INSTAGRAM WITH THE HASHTAG #MILLERLACROSSE OR #M11 TO BE FEATURED ON OUR SITE


---